Triangular Interport Bridge Championship is one of the long historical bridge championship in China. It plays an very important role in promoting the Bridge games in Guangzhou, Hongkong, Macau.
【穗港澳桥牌比赛】是国內历史较长的国际桥牌比赛之一,它为推动广州、香港、澳门三地的桥牌运动发展起了非常重要的作用。
In 1983, the then Chairman of Guangzhou Bridge Association Mr. GU Xue Hai, the Chairman of Hong Kong Contract Bridge Association Mr. Patrick CHOY, and the President of Macao Bridge Association Mr. Frederico Nolasco Da Silva (Portuguese) co-signed the agreement, and also after the approval from Hong Kong Xinhua News Agency and the China National Sports Commission, the Triangular Interport Bridge Championship will be hosted by Guangzhou, Hong Kong, Macau rotationally year by year, starting from 1984.
1983年,当时的广州桥牌协会主席辜学海,香港桥牌协会主席蔡国雄,澳门桥牌协会主席殷飛樂 (人稱三少) (葡萄牙人) 共同签定了协议,并经过香港新华社和国家体委批准,決定从1984年起,每年在三地轮流举办一次穗港澳桥牌比賽。
During 1984-86, the host city would send 2 teams, and the other cities would send 1 team, single round robin, using VPs to determine the championship. Starting from 1987, each city will send 2 teams, while the teams from the same city will not play against each other, playing in 4 rounds Round Robin, using single team VPs to determine the ranking. Besides the Team games, Open Pairs will also be held every year.
第一至第三屆(1984-86)的比赛东道主派两队参赛,其余两地各出一队参赛,以三轮单循环的积分多少決定名次。从第四屆(1987)比赛开始改为三地均派出两队参赛,同一方的两队不相碰,打四轮单循环,以单队积分多少决定各地的名次。除了团体赛以外,每屆都举行了双人赛。
HKCBA will organize the trial for this special event (or use the first 2 places in one of the Cup events in some of the years). Regrettably, some records have been lost. We hope to keep this from now on.
香港橋牌會每年會為此比賽舉行選拔賽(又或者用某一個杯賽的首兩名). 遺憾地有些紀錄已遺失. 希望在此之後都能有紀錄.
List of Hong Kong Teams in the past years:
以下是過往多年香港隊之參加隊員: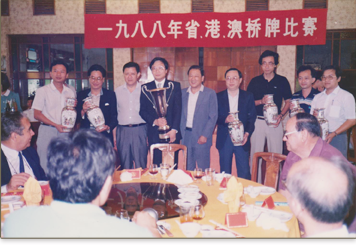 右坐者為創辦者之一, 1983年澳門橋牌協會主席 - 三少
Right hand side is one of the founders, the President of Macao Bridge Association in 1983 - Mr. Frederico Nolasco Da Silva.
Year
Date
Host
Champion
Players
35th
2018年6月23-24日
Guangzhou广州
Hong Kong香港

Kongo KONG, Wilson LEUNG, YIU Wai Sing, Terence CHAN

Charlie LEE, Oscar CHAN, Chris TH CHAN, Eric MOO

34th
2017年6月24-25日
Macau澳门
Guangzhou广州

Charlie LEE, Francis CHAN, Crystal TANG, Zia WAI

Patrick CHOY, Alan SZE, Abby CHIU, Barney LUI, Rocky TAM

33rd
2016年7月23-24日
Hong Kong香港
Guangzhou广州

KF MAK, WK LAI, Tony LAU, Baron NG, John TSANG, Jim LEE

Laurance LO, Patrick YUM, Leo CHEUNG, Chris FUNG

32nd
2015年6月20-21日
Guangzhou广州
Guangzhou广州

Bubble HO, Gordon HO, YIU Wai-Sing, Mickey LAW, John TSANG, Peter CHOW

Wilson LEUNG, Sing LEUNG, Nick FUNG, Leo LAM, Kongo KONG, Barney LUI

31st
2014年6月7-8日
Macau澳门
Guangzhou广州

Ben LAM, Helen YEUNG, Jerome CHEUNG, LO Wing Ho, Mick YEUNG, Sunny MO

Abby CHIU, Alan SZE, Alan TSANG, Chad LAW, Derek ZEN, Samuel WAN

30th
2013年8月30日-9月1日
Hong Kong香港
Guangzhou广州

WONG Kon, Sukon HUNG, LH CHIN, CC MOK, David IP, Dominic LEE
Derek ZEN, Samuel WAN, Karic CHIU, Vincent LI, Peter CHUN
【Sponsor team】
Patrick CHOY, Ashley LUNG, Abby CHIU, Alan SZE, Alan TSANG, Chad LAW

29th
2012年7月21-22日
Guangzhou广州
Guangzhou广州

KF MAK, Baron NG, Tony LAU, WK CHAN, Ivan LEUNG, CC CHEUNG

Bubble HO, Mickey LAW, YIU Wai Sing Jim LEE, Wilson LEUNG  

28th
2011年7月30-31日
Macau澳门
Hong Kong香港

David IP, Dominic LEE, WONG Kon, CC MOK, Harold LAI

Charlie LEE, Ben LAW, Barney LUI, John TSANG

27th
2010年8月7-8日
Hong Kong香港
Guangzhou广州

WK CHAN, Baron NG, CC CHEUNG, Ivan LEUNG, KF MAK, WK LAI

Alan TSANG, Barney LUI, Charlie LEE, Walter CHEUNG

26th
2009年7月25-26日
Guangzhou广州
Guangzhou广州

Abby CHIU, Alan SZE, Tony LAU, Jacky IP

Ringo LEE WC LI, Anthony CHING, CC CHEUNG, KL HUI, LT PANG

25th
2008年6月28-29日
Macau澳门
Guangzhou广州

Abby CHIU, Alan SZE, Tony LAU, Baron NG, Kinman LEUNG, Ivan LEUNG

Ringo LEE, WC LI, Lawrence LAU, Tiffany TSE, KL HUI, LT PANG

24th
2007年8月25-26日
Hong Kong香港
Guangzhou广州

WC LI, Anthony CHING, David CHAN, Ringo LEE, David CC NG

Jacky IP, Sunny MO, Ivan LEUNG, Abby CHIU, Y TAM, Wilson MOK

23rd
2006年9月2-3日
Guangzhou广州
Guangzhou广州

Ringo LEE, WC LI, David CHAN, LT PANG, Lawrence LAU, Patrick CHOY

Leo CHEUNG, WK NGAU, Steve WONG, Patrick LUI, Benny KWOK  

22nd
2005年11月26-27日
Macau澳门
Guangzhou广州

Alan SZE, WK CHAN, KF MAK, WK LAI, Derek ZEN, Samuel WAN

Patrick LUI, Benny KWOK, York LIAO, Christopher LEUNG

21st
2004年8月7-8日
Hong Kong香港
Guangzhou广州

Derek ZEN, Samuel WAN, Karic CHIU, David CHAN

CHAN Yiu, Nancy NEUMANN, Kelly TSANG, Peter YUM, Lawrence LAU, Patrick CHOY

20th
2003年10月4-5日
Guangzhou广州
Guangzhou广州

Anthony NG team

Robert ZAJAC team

19th
2002年7月7-8日
Macau澳门
Guangzhou广州

SS BUX, Samuel WAN, WK CHAN, WK LAI, LU Qin

Anthony CHING, LT PANG, YAU Ngai, Ringo LEE

18th
2001年8月4-5日
Hong Kong香港
Macau澳门

Alan SZE, HW WONG, KL CHOY, Thomas NG

KL FUNG, SK LUK, WK CHAN, YAU Ngai, LT PANG, WK LAI

17th
2000年7月29-30日
Guangzhou广州
Macau澳门
16th
1999年8月14-15日
Macau澳门
Guangzhou广州
15th
1998年7月25-26日
Hong Kong香港
Guangzhou广州
14th
1997年7月26-27日
Guangzhou广州
Guangzhou广州
13th
1996年8月31-9月1日
Macau澳门
Hong Kong香港
12th
1995年8月19-20日
Hong Kong香港
Guangzhou广州
11th
1994年8月6-7日
Guangzhou广州
Guangzhou广州
10th
1993年8月14-15日
Macau澳门
Guangzhou广州
9th
1992年
Macau澳门
Hong Kong香港
8th
1991年
Guangzhou广州
Hong Kong香港
7th
1990年7月28-29日
Macau澳门
Hong Kong香港
6th
1989年8月21-22日
Hong Kong香港
Hong Kong香港
5th
1988年
Guangzhou广州
Hong Kong香港
4th
1987年
Macau澳门
Guangzhou广州
3rd
1986年
Hong Kong香港
Hong Kong香港
2nd
1985年
Guangzhou广州
Hong Kong香港
1st
1984年
Macau澳门
Hong Kong香港